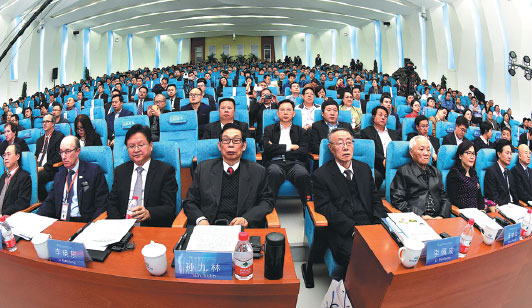 The second Sino-American Land Engineering Cooperation Conference takes place inShaanxi province. Yuan Jingzhi / For China Daily
Polluted soil can be redeveloped for sustainable usage after reconstructing its components, experts said at the second Sino-American Land Engineering Cooperation Conference held in Xi'an, capital of Northwest China's Shaanxi province, on April 18.
"The quality of land is difficult to improve under natural circumstances," said Han Jichang, executive director and researcher at Shaanxi Land Engineering Construction Group.
"It takes about 100 to 400 years to generate a soil layer thicker than 5 millimeters. But land engineering technology can help quicken the pace of generation and recovery."
Organic reconstruction can make unhealthy soil suitable for organisms to survive through replacement, compounding and reallocation of components in the land, he said.
Statistics from the United Nations Environment Program showed 38 percent of farmland in the world has been degraded and 23 percent is in the process of degradation, leading to a loss of 50,000 to 120,000 square kilometers of farmland each year.
Desertification expands with an annual rate of 60,000 square kilometers, and human activities have contributed 87 percent of the result, Han said.
The abuse of chemical fertilizers, the stockpiling of waste and mass exploitation of raw petroleum have all led to the soil degradation and heavy metal pollution, he said.
In the arid region of northern China, Han's team mixed sandstone and sand to produce new soil with better water retention to help crops to grow.
The reconstruction of an artificial plow pan and plow layer helped to improve the permeability of water and fertilizers, he added.
"Land has a three-dimensional structure with rock, soil, rubble and human-made things on the surface. Reconstruction aims to provide healthy land suitable for crops and humans," he said.
The conference is an annual event held by the Shaanxi provincial government, attempting to provide a platform to discuss the recovery of damaged land, exchange ideas about related technology and promote the sustainable development of land engineering, officials and experts said at the event.
David R. Lloyd, program director of the Office of Brownfields and Land Revitalization under the US Environmental Protection Agency, said the agency launched cleanup programs that combined environmental, social and economic elements to realize sustainability in the recovery of polluted land.
Environmental issues, such as reduction of diesel emissions, promotion of renewable energy and improving water efficiency, should remain a focus, he said.
Facilitating land rehabilitation can lead to both economic returns and new jobs, Lloyd added.
Tad McGalliard, researcher and policy director of the International City/County Management Association, told the story of brownfields' cleanup and redevelopment in the US.
"The early days of the national brownfields program was more focused on policies and programs to codify the appropriate strategies for providing liability relief for potential investors, and creating guidelines for appropriate cleanup strategies depending on the intended use of a redeveloped brownfield site," he said.
He said brownfields are now redeveloped into all kinds of new uses, including new commercial projects, housing, manufacturing and renewable energy projects such as wind and solar farms.
More than 500 experts, officials and researchers from home and abroad discussed the ecological construction of land and governance over contaminated soil at the conference.
In the first Sino-American Engineering Cooperation Conference, held in Xi'an in April 2016, experts proposed the idea that organic reconstruction laid the foundation of land engineering. After the conference, an international research society was set up in Xi'an and a land engineering program was established in Changan University in the city.
"More technologies and innovative talent should be cultivated to realize the sustainable development for contaminated land cleanup, based on recyclable usage of land resources," said Jiang Jianjun, an official from the Ministry of Land and Resources of China.
The conference was sponsored by the Department of Land and Resources, the Department of Environmental Protection of Shaanxi province, the Shaanxi Administration of Foreign Expert Affairs and the Shaanxi State-owned Assets Supervision and Administration Commission.
It was organized by the International City/County Management Association based in Washington DC and the Shaanxi Land Engineering Construction Group in Xi'an.
chenmeiling@chinadaily.com.cn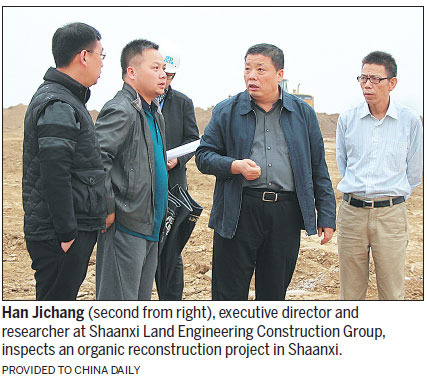 (China Daily 04/19/2017 page19)